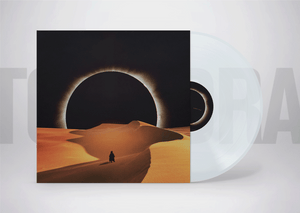 THIS IS A PRE-ORDER! RELEASE DATE IS 24th FEBRUARY 2023. ALL ORDERS CONTAINING PRE-ORDER ITEMS GET SHIPPED WHEN ALL ITEMS ARE IN STOCK.
Limited editon of 400 copies on clear vinyl.
"Vortex" is album no.5 and was releases in the year 2018.
Toundra's music can not be consumed as single tracks, this is a full-album experience. And its warm moments will open your ears and enlighten your brain perfectly when played from vinyl source.
For Fans of: Caspian, Long Distance Calling, Russian Circles
DISCLAIMER:
HAND OF DOOM RECORDS SHIPS EXCLUSIVELY WITH VINYL OUTSIDE OF THE LP JACKET TO PREVENT SEAM SPLITS OR ANY OTHER KIND OF INTERNAL DAMAGE DURING TRANSIT TO MAKE SURE YOUR ORDER ARRIVES SAFELY. ALL ORDERS ARE SECURELY PACKED, HOWEVER, HAND OF DOOM RECORDS CANNOT BE HELD ACCOUNTABLE FOR ANY POSSIBLE BRUTE TREATMENT THE PACKAGE MAY ENDURE DURING TRANSPORT TO YOU. WE DO DON'T ISSUE REFUNDS OR SEND REPLACEMENT COPIES FOR MINOR ISSUES SUCH AS BEND CORNERS OR BACKGROUND NOISE OR THE OCCASIONAL CRACKLE IN THE SOUND. PLEASE, BE ADVISED THAT WE EXAMINE EACH ITEM CAREFULLY AND THEY ARE IN PRISTINE VISUAL CONDITION UPON DEPARTURE FROM OUR HEADQUARTERS.