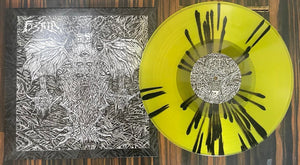 Limited edition in 200 copies in Transparent yellow vinyl with black splatter. Comes with download code.
-------------
This is the 10th Fistula's studio album

Recorded at Black Mold Studios.
released April 7, 2023

Fistula are:
Bass: Buddy Peel
Drums: Robert Williams
Guitars: Bahb Branca and Corey Bing
Vocals : Shane Post

Lead Guitar on Altamont Diaries: Siki Spacek
Narrator on Altamont Diaries: Robert Williams

Artwork by: Scott Stears aka Wizzardfool
Poster graphics and design by: Tony MELTED

Release by Teschio Dischi TD017
2023.