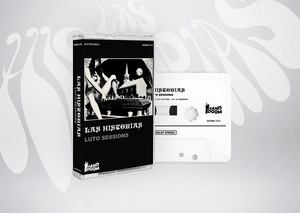 THIS IS A PRE-ORDER! RELEASE DATE IS 21st OCTOBER 2022. ALL ORDERS CONTAINING PRE-ORDER ITEMS GET SHIPPED WHEN ALL ITEMS ARE IN STOCK.
Las Historias "Luto Sessions" MC
limited to 100

This live session was made in the summer of 2020/21
at Luto Recordings, Córdoba Argentina.
Engineered by Manuel Fierro and Pablo Aguirre.
Mixed by Pablo Aguirre.
Mastered by Patricio Claypole at Estudios El Attic,
Buenos Aires, Argentina.
Argentina is actually one of the hottest places on earth, when it comes to Psych Doom/Stoner music. A melting pot full of hot-cooking and sizzling LAS HISTORIAS from Cordoba are a musical gem that you have to discover if you are interested in stoner rock and/or psychedelic underground music. It leads you to a captivating mix of 60's psychedelia, hypnotic slow-mo riffs, melancholy and fuzz, fuzz, fuzz!
For fans of: Electric Wizard, The Black Furs, Mephistofeles