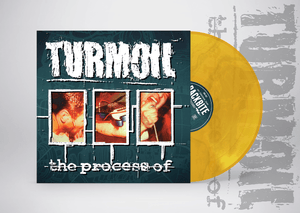 ONLY 1 PER CUSTOMER! ORDER THAT CONTAIN MORE COPIES GET AUTOMATICALLY CANCELED AND REFUNDED! PLEASE RESPECT OUR RULES AND GIVE OTHER RECORD COLLECTORS A CHANCE TOO.
----
records in stock
no pre-order madness
worldwide shipping
poly-lined innersleeves
safe packaging
----
It's getting loud in the early 90s Philadelphia suburbs, when some bored kids conspire to join the Eastcoast-Hardcore genre. TURMOIL's anger-driven, energetic music barely gives a chance to take a breather, became a trademark and put the band on the big stage. In their short period of existence they managed to release one EP and two studio albums. 
In 1999 TURMOIL released their 2nd album "The Process Of" via Kingfisher. Its still treaded as a kinda underground tip... once you've played it you will defo keep it in your record collection. Given the fact that it was written in 1998/1999 you will wonder how late 2000's it sounds. One of the metalcore classics in my eyes. Way ahead of its time.

We bring back this gem on different and strictly limited editions.
pressing info:
170 x solid white
120 x transparent turquoise
100 x transparent red
20 x solid pink
20 x transparent yellow
12 x test press gold
8 x test press red