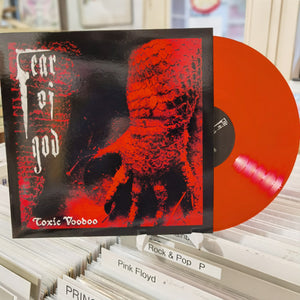 First time ever on vinyl: Fear of God - Toxic Voodoo (1994)

FEAR OF GOD was formed in 1989 out of the ashes of L.A. Thrash Metal Band DETENTE. They made it to a deal with Warner for their debut album "Withing The Veil". The album was very well appreciated in the worldwide hard'n heavy scene and the original pressing is a sought after collectors item nowadays.

In 1994, after line-up changes due to personal differences FEAR OF GOD released their 2nd and last album "Toxic Voodoo". This album was rougher than "Within The Veil". The Thrash roots of DETENTE are meeting doom metal and excellent instrumental work plus the incomparable lyrics and voice of Dawn Crosby. Guitars are even boardering into Death Metal here and there. To my ears it's a perfect match.

"Back to the Thrash roots of Detente but flavoured with some Doom parts. This album kills!"
(Rock Hard Germany, 26.08.1994)

On December 15 1996, Dawn Crosby, to many the soul of Fear of God, dies of acute liver failure due to years of excessive alcohol abuse.



Pressing info:
300 x black
100 x transparent red
100 x solid white (High Roller Mailorder exclusive)
10 x Test press

Vinyl cut made by german vinyl enthusiasts in "Flight13 Duplication". Every record comes with a set of stickers, a lyrics sheet and is housed in a black poly-lined innersleeve. The original artwork got a little rework to make it look good in 12" format.