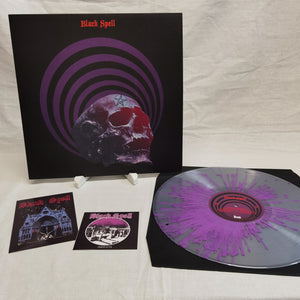 BLACK SPELL are a Psychedelic Doom band from nothern Italy. The band members are putting themselves behin their art, so no band photos, no band bio, just FUZZZZZZZZZ!
If you like some early Electric Wizzard or the whole South American Doom scene, you will definitely like this little gem. It could have been easily recorded in the 70's but hell no, its carrying the whole spirit 50 years further. So all we born-to-late youngsters get what we deserve. Lucky us. Thanks for having you, BLACK SPELL!


Pressing info:
250 x clear w/lilac splatter
20 x Test press (only 14 in the webshop)

Vinyl cut made by german vinyl enthusiasts in "Flight13 Duplication". Every record comes with a set of stickers, a lyrics sheet, and is housed in a black poly-lined innersleeve.
Artwork by BLACK SPELL and Paul Needham.